Your belly is beautiful… adorn it!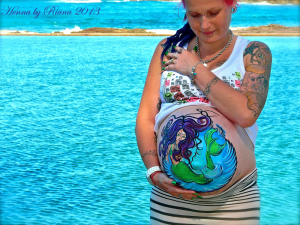 Relax and put your feet up and enjoy what has been described by some as the most relaxing day of their pregnancy.
Choose between safe, natural henna, which lasts 1-2 weeks, or colourful, washable body make-up.
Choose a unique custom designs based on your inspirations and ideas, or I'll work from an image you have chosen.
This is a great gift idea for the mum-to-be!
Click here to see some beautiful women celebrating their bumps.
Basic Belly Adornment
1.5hrs, ideal for Babyshowers and Blessingways or for the new family on a budget. $150 at your venue, $100 in my studio in Sawtell.
Baby Shower/Blessingway Package
2.5 hours, include the guests in the fun! The beautiful mum-to-be receives her belly adornment, and guests receive a small design. $250 for the full package, or $150 with each guest paying $10 on the day if they choose to be adorned.
It's all about you Deluxe Adornment Package
3.5 hours. Ideal for pregnancy portraits, busy mums that need to relax and those with a creative vision for their ideal belly painting. This session is best done in the afternoon so that the light is perfect for pictures. You take as many breaks as you need and we enjoy a beautiful and relaxing afternoon. You can bring a photographer or I can source one for an additional cost. I am also happy to take photos afterwards and will stay until you have a pregnancy portrait that you love. $350 at your home or $250 in my studio.